Turkey Ranked 4th on World Tourism List in 2021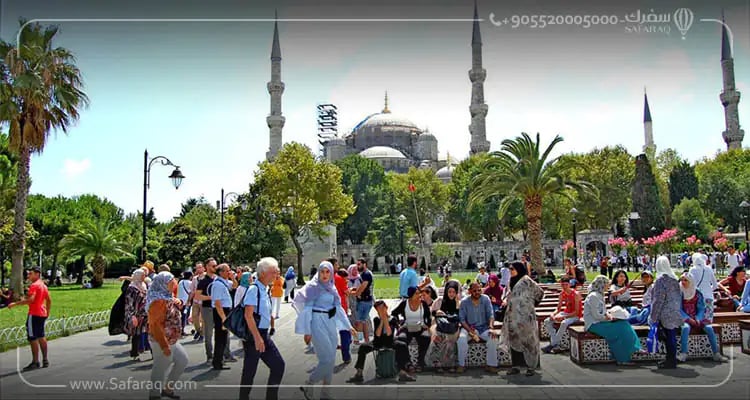 Turkey ranked fourth worldwide in the number of tourists visiting the country, after hosting nearly 30 million tourists in 2021.
Turkey beat Italy and the United States of America, up from the previous ranking of sixth place in the world.
According to the world tourism organization's assessment, France topped the list with about 40 million tourists, while Mexico came second with 31.9 million, followed by Spain in third place, with 31.2 million.
Turkey came fourth after beating Italy, which hosted 26.3 million tourists and came fifth, then the United States with 22.1 million tourists, followed by Greece with 14.7 million, followed by Austria with 12.7 million tourists.
The report showed a nosedive for some countries in the world of tourism. For example, Thailand, which hosted 40 million visitors in 2019, fell to 53rd on the list, with only 400,000 tourists in 2021.
Greece was one of the losers, according to the report, with the country targeting 25 million tourists at the beginning of 2021, but reaching only 14.7 million by the end of the year.
"About 421 million people travelled the world as tourists in 2019," said Recep Yavuz, the head of the Tourism Work Group of the city council in Antalya, "There were nearly 30 million tourists of them in Turkey."
"According to the latest data in the report, Turkey's share of the global economy was about 7% in 2021," Yavuz said.


British Ambassador to Ankara Praises
British Ambassador to Ankara Dominick Chilcott praised Turkey's ranking from the World Tourism Organization and tweeted that he was not surprised that Turkey ranked fourth in the world, noting that Turkey is one of the best places to spend the summer holidays.
Britons are among the most popular nationalities to prefer Turkey as a tourist destination during the summer season, with Britons visiting Turkey's coastal cities, such as Antalya, Bodrum and Marmaris.
Edited by Safaraq Tourism
Did you like our topic? You can share it with your friends
Featured tourist services
We offer top tourist services with the highest standards of quality and luxury with 24/7 follow-up.
Flight reservations
Tourist programs
Hotels and Resorts
Car Reservation
Group Tours
VIP Services
Subscribe To Our Newsletter
Find More About The Latest Safaraq